Appealing India – One Stop Destination of India Tourism
We are a team of travelholics who aim to provide insights to the travelers about India and it's rich culture. Know more about India and being a part of its tradition and religion be a life-changing experience. Appealing India is a place where you can find all the information about India. You can plan and execute a perfect holiday in India with Appealing India. India has a full range of cultural diversity, come and witness the "Unity in Diversity" in India. From desserts to the wettest place of the world, from the sky kissing the Himalayas to the largest coastline. India's tourism has a lot to offer.
Pack your bag without delay and explore About India. All you need is here. Appealing India is here to provide you with a lot of holiday ideas. Traverse the kaleidoscope of folklore, culture, and vibrant traditions of India. India speaks for itself as a heartwarming journey. Discover the diverse facets of this nation as it unfolds in front of your eyes.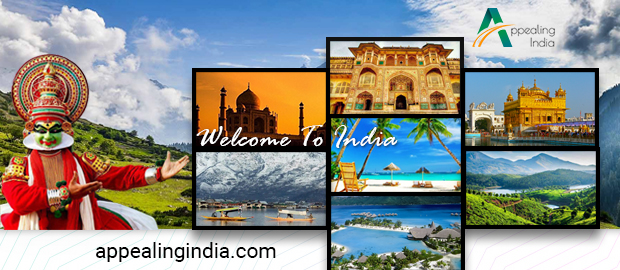 About India Tourism
Tourism in India has shown remarkable growth in the past decade. India tourism is increasing with a significant inundation of tourists from all over the world. A high culture, a rich legacy, and heritage, and incredible natural beauty of India lure many tourists. India tourism has everything to offer, from long stretching white coastline to foggy hill stations. From golden deserts to abundant wildlife. From with heritage historical monuments, tranquil backwaters to pilgrimage places, overwhelm the heart of every tourist.
Moreover, India tourism offers the tourists to witness an array of festivals with their varied culture. Vividly characterized fashion with active markets and vibrant lifestyle add a twist to the trip.
Experience authentic and traditional Indian hospitality in your India tour. It will make your experience as a traveler genuinely memorable and incredible. Travel through this incredible Indian and its states. Explore the vibrant and rich culture and traditions with a variety of lip-smacking delicacies.